"We love our harness! It's easy to put on, secure, and comfortable! It's our go-to harness. It's super cute, too!" Grace, Wildside Customer
Regular price
$0.00 USD
Sale price
$58.00 USD
Unit price
per
Sale
Sold out
Product Description

Experience a no-pull, no-choke solution with our innovative design featuring two metal leash rings for front leash attachment to prevent pulling*.

Guaranteed ease of use with three heavy-duty buckles, including one lockable buckle for extra security. Say goodbye to the hassle of pulling the harness over your dog's head!

Crafted with premium materials for comfort and durability. Waterproof oxford fabric outer shell and breathable mesh inner layer to keep your dog cool during any activity.

Safety and comfort are our top priorities. Thousands of happy dogs have tested and approved our harness for optimal comfort.

Enjoy stress-free walks during low-light conditions with the bright reflective trim.

Try the Easy Click N Go Dog Harness today for a happier walking experience! 🐶🎉

*Harness effectiveness depends on proper training.
Details

The harness is equipped with a reliable 3-buckle system, including buckles for the neck and two on the chest.

It features front and back leash clips, reflective trim, and a control handle.

The harness is made from sturdy and durable materials.

To ensure your pet's comfort, the harness is designed with breathable mesh.

Please refrain from using this as a tie-out or while being crated.
Size

Small- coming soon. Sign up for wait list

Medium | Neck Girth 14"20" | Chest Girth 14"-24"

Large | Neck Girth 16" -24" | Chest Girth 22"-33"

Extra Large | Neck Girth 22"-33" | Chest Girth 28"-39"
Shipping & Return

Ready to ship! Ships within 1-3 days (excluding shipping time).
Share
Low stock
View full details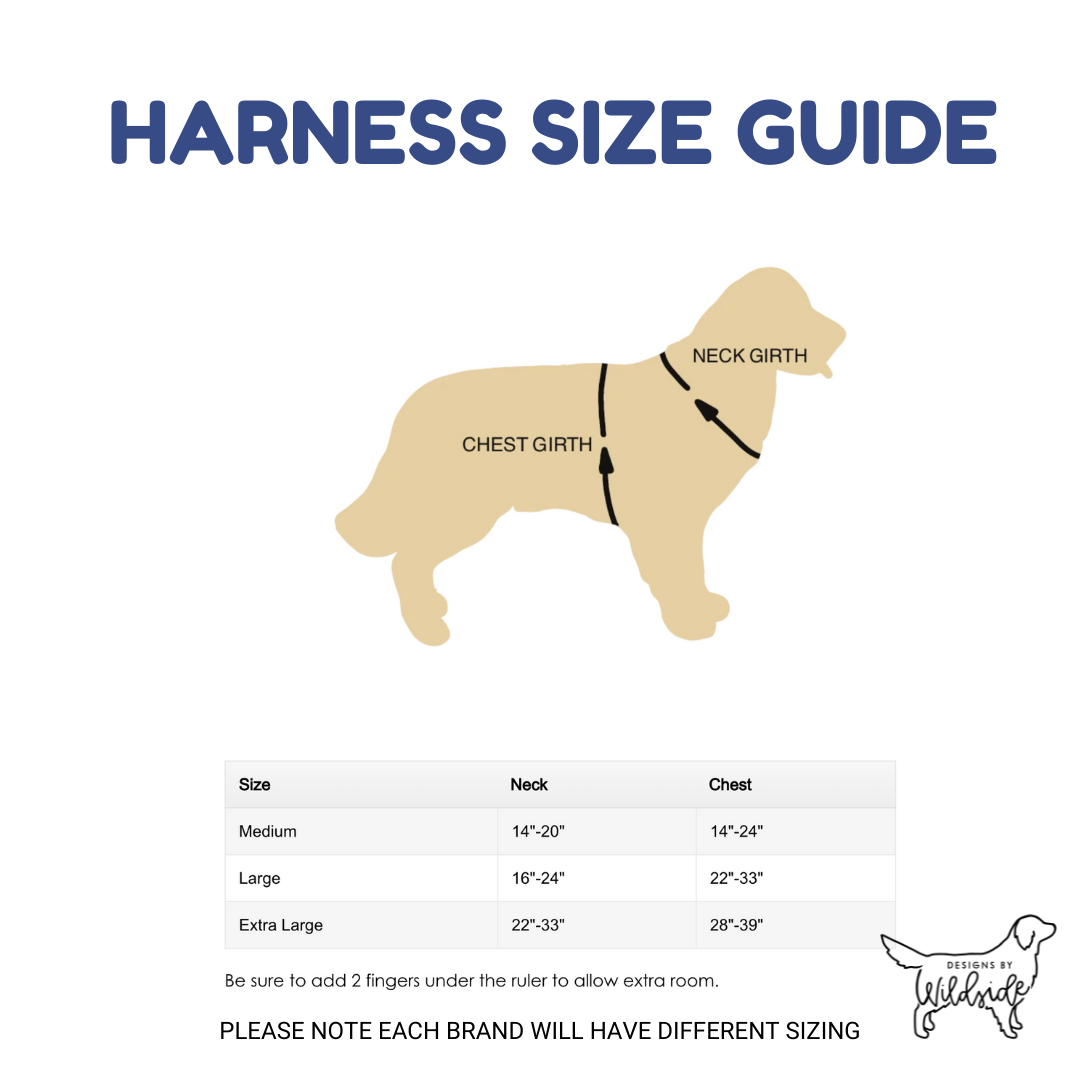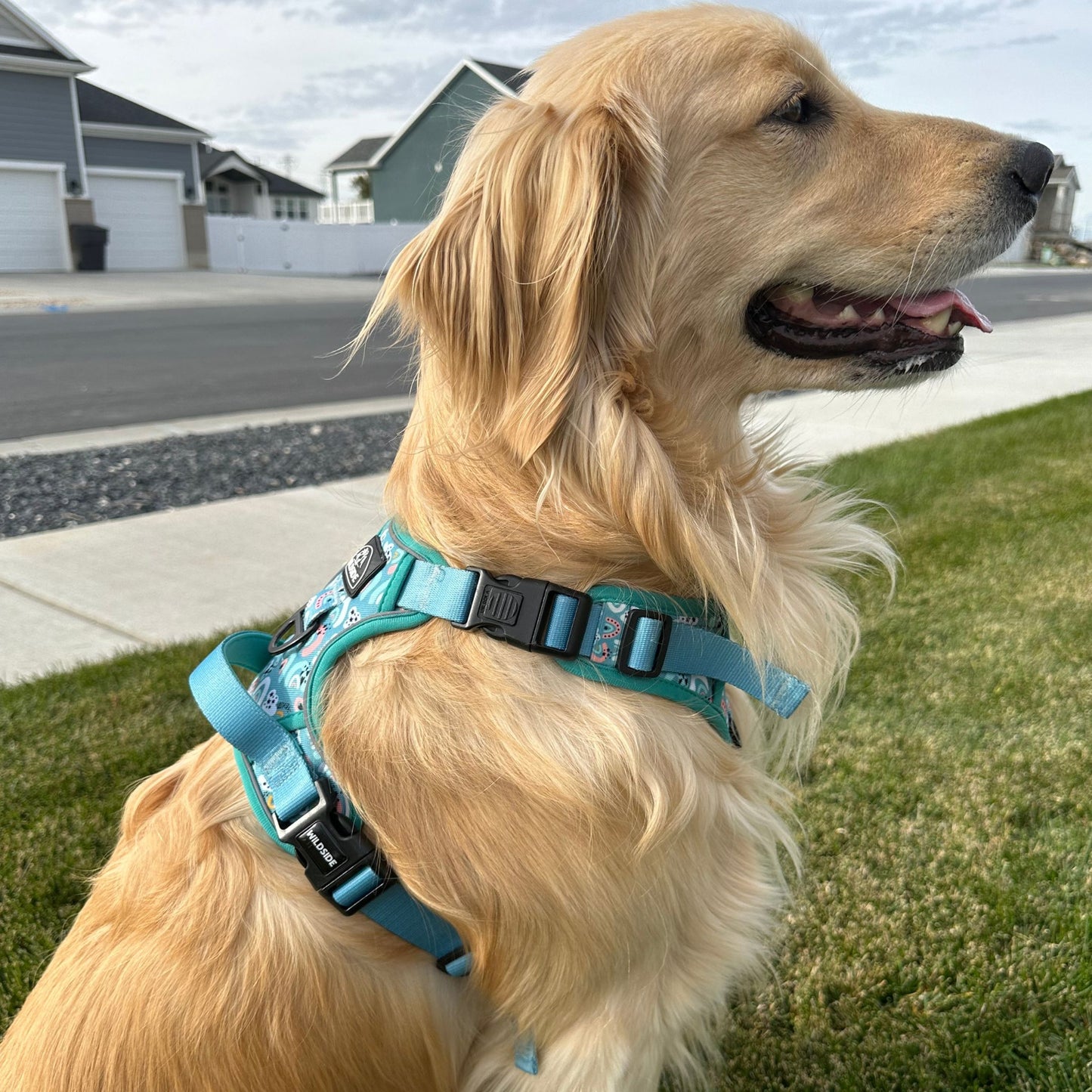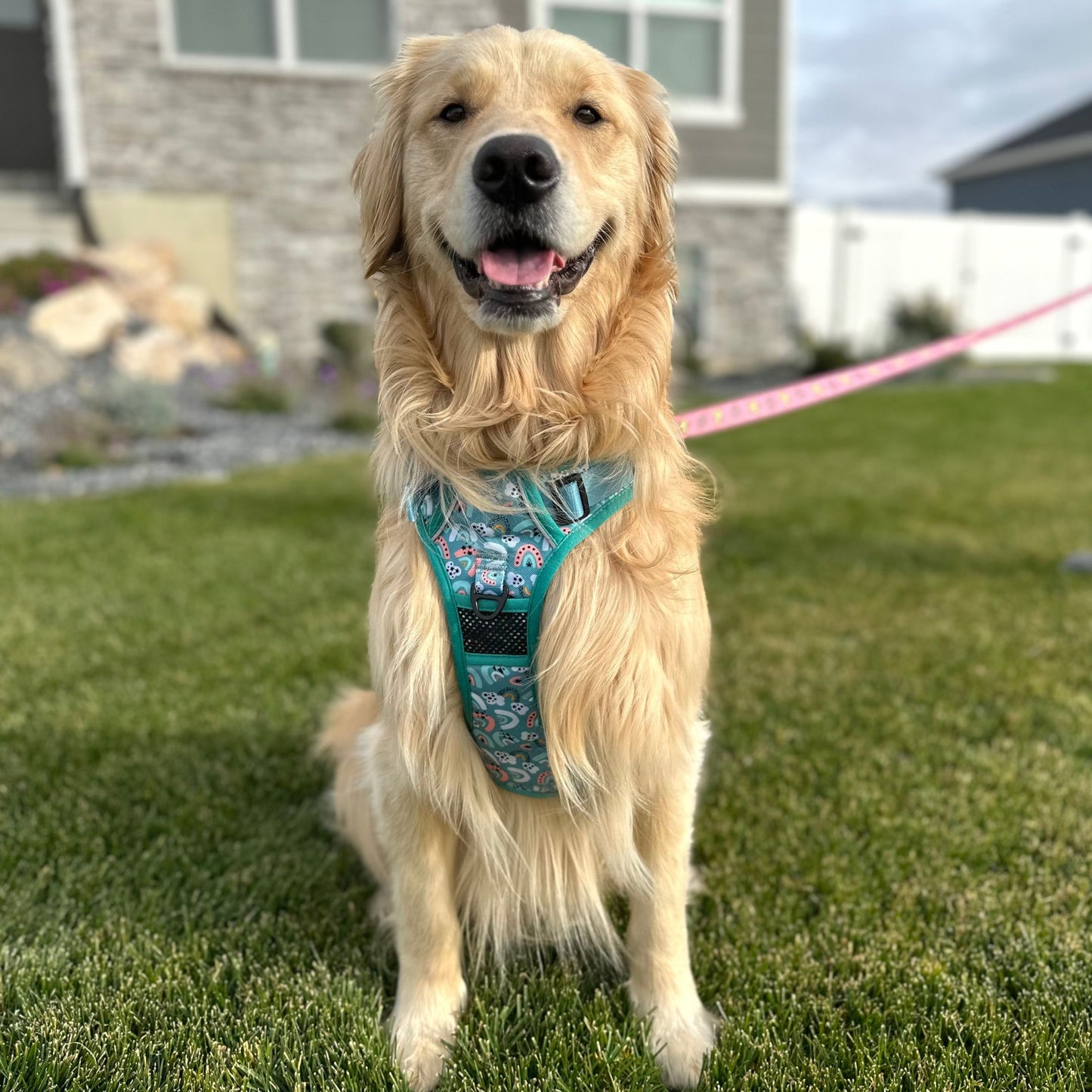 Best Harness Ever
I've looked everywhere for a good harness for my Black Lab mix, Coco. I wanted a harness that was durable, easy to put on, and a fun design! This harness was so easy to put on her and adjust. I no longer had to struggle to put it over her head -- it was such a hassle! Now we can put harness on easily! Excellent buy!
So cute & comfy!
The harness is SUPER cute! Also the extra buckle around the neck is awesome. My pup doesn't like harnesses, but she was able to put this harness on during our first desensitization session! It's easy to put on and easy to take off. Adjusting the straps was easy, too.
Perfect!
I love this harness. It goes on and off effortlessly and the Fi tracker fits perfectly. The harness feels secure without being overly bulky and my Rhodesian Ridgeback Ophelia loves it too!
Frequently Asked Questions
Are harnesses suitable for all dog breeds and sizes?

When it comes to dog harnesses, the options are plentiful. However, selecting the right harness is crucial, especially considering your dog's breed and size. For smaller dogs, a neoprene harness can be a suitable choice, offering comfort and flexibility. On the other hand, for medium to large breeds, it's essential to opt for a sturdy and durable harness made from robust materials.Which is what we offer at Wildside Dog Gear. Ensuring the durability of the harness will provide the necessary support and security for your big furry friend.
How to choose the right style of harness for my dog?

When it comes to choosing the right style of harness for your dog, we understand the importance of durability and a perfect fit. That's why we offer a range of durable dog harnesses specifically designed for medium, large and extra large breeds. Our harnesses feature a convenient lockable neck buckle, eliminating the need to slip them over your dog's head. With reinforced stitching and sturdy materials, our harnesses are built to withstand the strength of larger dogs while ensuring their comfort and safety. Explore our collection and find the ideal harness that combines durability and a perfect fit for your dog today.
How to measure a dog for a harness?

To ensure the perfect fit with our dog harnesses, it's important to take accurate measurements of your furry friend. Here's a simple guide to help you get it right:

1. Gather the necessary tools: Grab a soft measuring tape or use a string and a ruler.

2. Keep your dog calm and still: Make sure your dog is in a relaxed sitting position before measuring.

3. Measure the neck: Starting at the widest part of the neck, wrap the measuring tape or string around and ensure you can comfortably fit two fingers underneath. This allows for some wiggle room and prevents the harness from being too tight.

4. Measure the chest: Find the widest part of your dog's chest and wrap the measuring tape or string around it. Take note of the measurement.

If you're unsure about the measuring process or which size to choose, please don't hesitate to reach out to us at hello@designsbywildside.com. We're here to assist you and ensure that you find the perfect size for your pup.